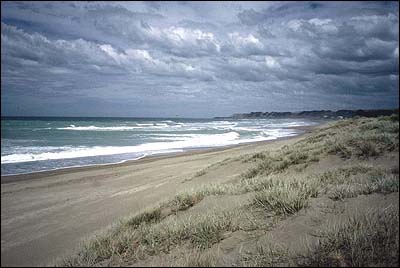 Had a great weekend helping out at The Rock youth group camp, it was awesome soaking up some sun, getting some waves, worshiping and getting up to mishchief with the crew from the Rock. There was some great times with the biggest bonfire in the world, and the always exciting fireball soccer. I spoke at the camp, and then drove to palmy and spoke at All Saints church on Sunday night.
Had some good yarns with my mate Dan that will make there way into the blog later this week if I have some time.
Jonny and his wife Bex run the youth group at The Rock, and they are absolute legends. Bex has written some brilliant short poems and reflections which have yet to see the light of day. She has given me permission to use one of her reflections on this blog.
I read this, and had that sense of being convicted, rebuked, encouraged, slapped, I just felt a holy sense of being gutted all in one. It is a constant tension to reconcile the beauty and luxury of our existence, with our friends and brothers and sisters in the rest of the world. I hope we get angry, I hope we hurt, I hope we are grieved as we read what she is written. I was. The following is (C) 2006 Rebecca Gilling, and is used by permission. If you would like to use it, or read some more of her stuff, please email her at rebecca@therock.co.nz
"Its just two different worlds"
Its safer for us if we see it as two. If its two, then there are two sets of rules. One for us and one for you. And it helps that we get to make them.
If its two worlds, then we never really have to meet. We can visit yours. Maybe we can stay for a while. We can even bring you some good things. Good for me, good for you.
If its two, then we still get to feel good about being generous. We can still smile and pat ourselves on the back for being a blessing to others. We never have to move beyond generosity to concern ourselves with things like justice, or injustice.
If we are living in one world, and you are living in another, then our lives are mutually exclusive. The way I live mine does not effect the way you must live yours. Your poverty is not related to my wealth. Ending poverty does not mean ending wealth.
If its two worlds, then we never have to think about what God sees when He looks at us next door to you. I dont have to imagine you standing naked with bulging eyes and swollen stomach, parentless, and ravaged by AIDS as I add another room to my house, another investment to my portfolio. Because its just two different worlds.
And when I come face to face with the fact that there are 13million others exactly like you on one continent alone, I am reading a statistic. I am not coming face to face with you. Because if I did, I would have to hold you, feed you, clothe you, love you......I would have to change. I would have to care more about you than my portfolio.
If its two, then we can both enjoy a God who comforts the disturbed. We never have to encounter the kind of God that might be interested in disturbing the comfortable